Ice House Conversion Kits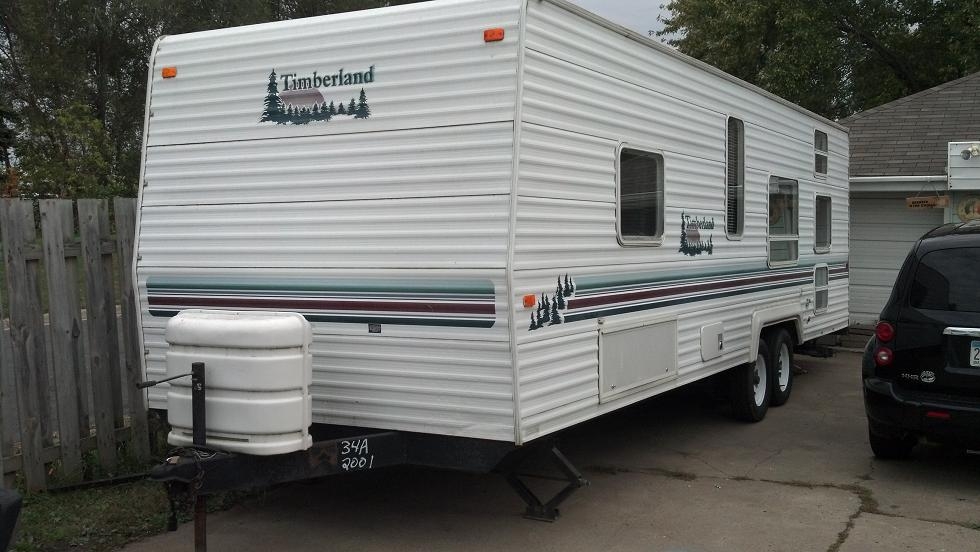 Convert Any Camper
This will convert single or tandem axle units into a drop down fish house. All the old axle and suspension parts are removed and the conversion kit is installed in its place. Most tandem axle campers, fewer than 28 feet, can use the single axle conversion. These units can also be mounted to a skid house, with an added tongue, to make a skid house a drop down trailer fish house.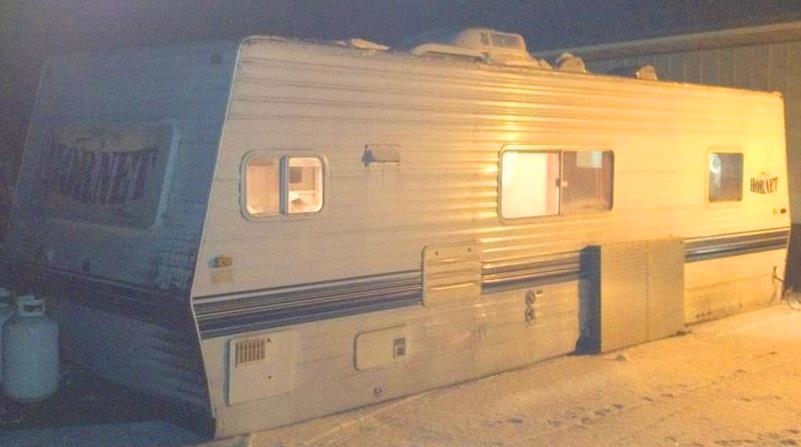 After Conversion Kit
After installing the conversion the entire camper will be able to lower to the ice or ground using manual or electric trailer jacks. On the standard bolt on model the frame of the camper will be 3 inches off the ice when fully lowered, perfect to rest on 4 x 4 boards. When the units are bolted on they can be unbolted and installed on a different camper, if ever needed. If the units are welded on they can be modified to within 1 inch of the ice.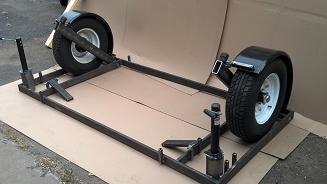 Heavy Duty Framing
All tubular construction with 1/8" thick wall framing and 1/4" thick walls for the swing arms that the wheels are attached to. The pivot bar, for the swing arm, is supported at both ends for a very strong axle. The swing arms will not bend like units that have an open end stub for the wheel to pivot on. The extra tube on the outside gives a great jacking or pry point if you have the unlucky "freeze in" situation.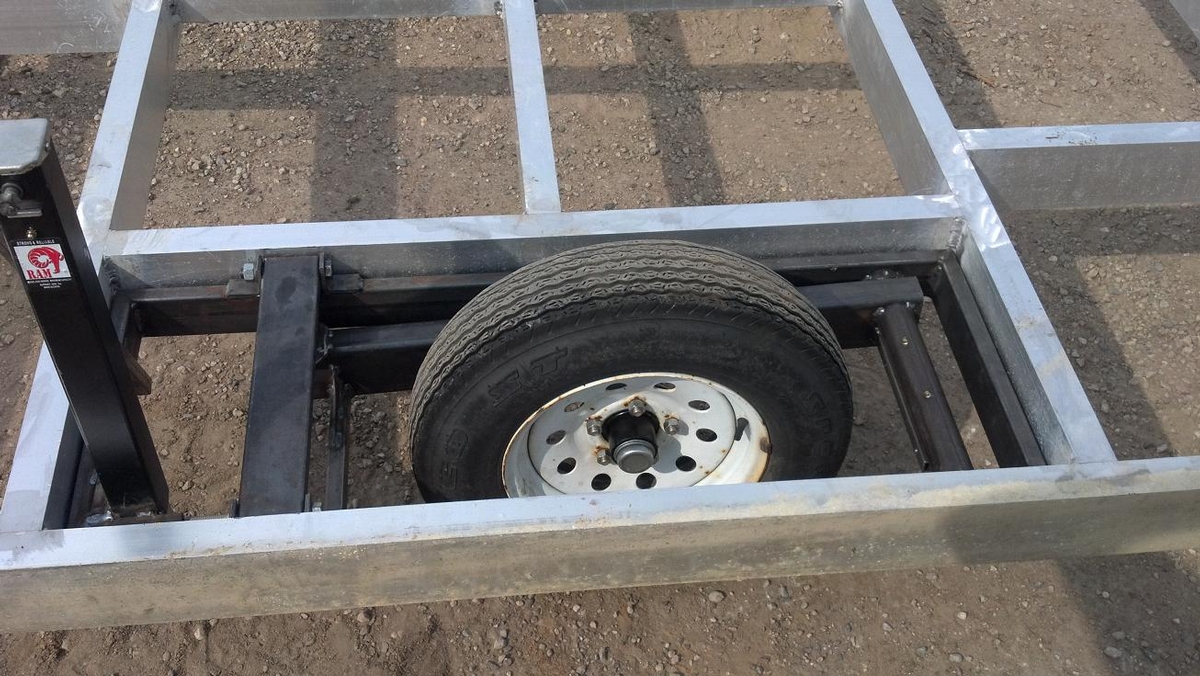 2 Piece sets for frames
The independent units can be easily mounted into a frame, especially for aluminum frames that are more difficult to mount traditional drop down style wheels to. If these are bolted in they can easily be removed and put on a new trailer.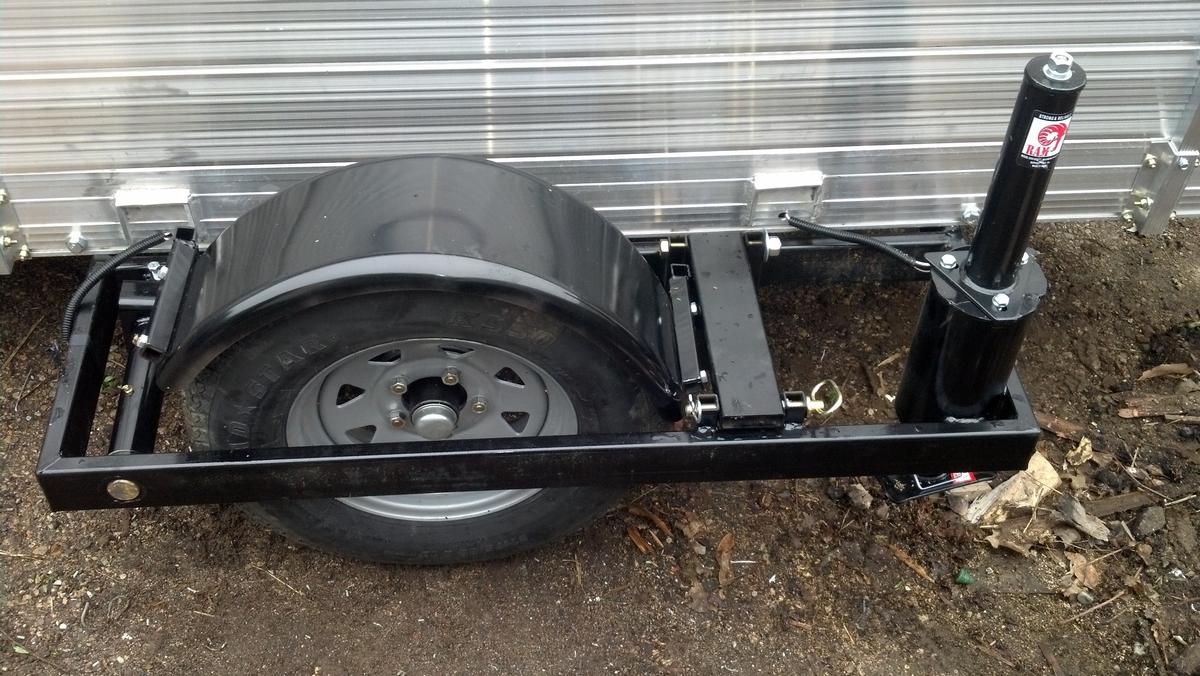 Simple Lowering and Raising
These conversion sets use a trailer tongue jack, either manual or electric. The manual jacks come in top and side wind, and can be modified with a nut in place of the permanent handle for theft deterrence and the use of a cordless drill. Modified jacks come with a handle that has a socket welded to it for manual operation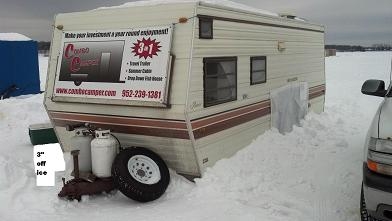 Use your Camper All Year!
Don't spend a bunch of money on a "fishouse" that has a few camping amenities; turn your camper with all the camping amenities into a "fishouse". With this conversion your lowering is only limited to what hangs below the frame. Typically the only thing that hangs lower than the conversion is the black water discharge tube. We take our black water tank out and use a self-contained toilet. Sometimes we remove the tub to have a spear hole in the bathroom.
The lowering aspect is also convenient at campsites for leveling. The units are more stable and you don't need the flimsy steps.