Installation Process
You can either put the conversion in first or make the wheel clearance first. I recommend putting the conversion in first, so if you have a problem with the intended position, (like: cross member, water/gas line obstruction, tongue weight) you don't end up with an extra large hole in the side of your camper. This is intended to be a guide for the process, and not specific instructions for every situation.
Some things to consider before you start.
Where are the cross members? If you can line up the conversion frame with the cross member there will be less fishing hole space lost to intrusions.
How much tongue weight do you want? Although the best freeway towing will have 100-400 pounds of tongue weight, if you want to move it with an ATV you will want less. You need to decide which is most important. Note: The wheels are not in the center of the conversion, so your fulcrum (pivot) point will be where the wheel is.
Where is the door and interior features? Usually the conversion can put moved forward or backward 3-4" without effecting the towing too much. Relocating things like hot water heater sink can be much harder than modifying drawers.
Putting in Combo Camper Conversion
IN PROGRESS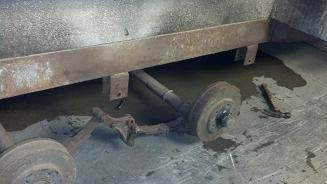 Remove the axles
First cut any electric brake wires. If you are not reusing them and they are connected to the trailer wiring make sure to cap the ends of the wires. You can unscrew or cut bolts, or cut the shackles from the frame.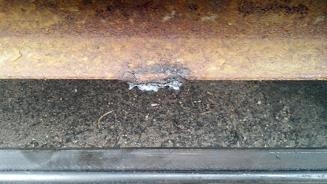 Creating wheel clearance